Place order
For new customer, you need register a Superbargainday account first before you place an order.You can also log in with your facebook ID for fast and more convenient chats with us for order inquirying.
Checking & Tracking order
Login my account and click 'My Orders' in the top of left menu to see your order status.You can track your order shipping status by clicking the shipping numbers.
Order cancellation
Your order will be shipped out within 24hours; thus we can only accept order cancellation before shipping.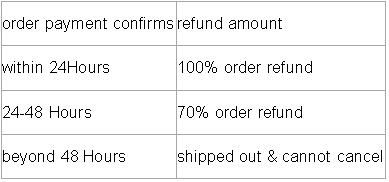 If you would like to cancel your order, please click 'send Email' in home page and choose 'After Sale Support' to apply your order cancellation requests.
Currency
We afford local currencies for your convenient payment.
AUSTRIA Euro(EUR)
BELGIUM Euro(EUR)
CZECH REPUBLIC Czech Koruna(CZK)
ESTONIA Euro(EUR)
FRANCE Euro(EUR)
GERMANY Euro(EUR)
GREAT BRITAIN Great Britain Pound(GBP)
GREECE Euro(EUR)
HUNGARY Euro(EUR)
LATVIA Euro(EUR)
LITHUABIA Euro(EUR)
LUXEMBOURG Euro(EUR)
NETHERLANDS Euro(EUR)
POLAND Euro(EUR)
PORTUGAL Euro(EUR)
ROMANIA Euro(EUR)
SLOVAKIA Euro(EUR)
SPAIN Euro(EUR)
UNITED STATES United States dollar (USD)
Payment
You can choose Paypal, credit card and debit card for payment.
If you want bulk purchase more than $500, please contact us for discount.
Superbargain day supports following forms of credit and debit cards:
Superbargain day supports following forms of credit and debit card
VISA
MasterCard
American Express
Japanese Credit Bank (JCB)
Diners Club
Maestro
Laser Card
Superbargainday does not store or review your credit card information. As such, should any issues arise regarding your credit card transaction, please contact your credit card company.